Canadian skincare brand Nuez Acres harnesses the power of pecans
Canadian skincare brand Nuez Acres is aiming to position pecans — and more specifically pecan oil — in a whole new light.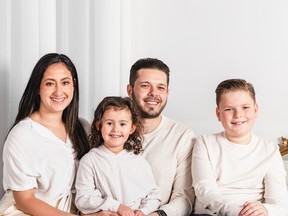 Reviews and recommendations are unbiased and products are independently selected. Postmedia may earn an affiliate commission from purchases made through links on this page.
Article content
Canadian beauty brand Nuez Acres is aiming to position pecans — and more specifically pecan oil — in a whole new light.
Article content
"This amazing oil is quickly absorbed, non-comedogenic and does not clog pores. It leaves the skin with a healthy glow and youthful appearance," says Anthony Wingham, who founded the brand alongside his wife Nancy.
Article content
Using pecans grown at a family farm in Mexico, the company processes the pecans in the Fraser Valley so they can use the precious oils in their small-batch self-care products. We caught up with the co-founders to learn more.
Q. For those who aren't familiar, what is Nuez Acres?
Nancy: Nuez Acres is a seed-to-skin waterless beauty brand harnessing the power of pecan oil through our 100 per cent natural products for skin, hair, and body. Nuez Acres is a female-led, Indigenous owned company. We believe in the power of pecans to nourish and revitalize skin, hair, and body. Our products are uniquely nourishing, deeply moisturizing, and rich in antioxidants. We use only the highest-quality ingredients that are ethically sourced, sustainably grown, and always cruelty-free. Our products are handmade in small batches with love.
Article content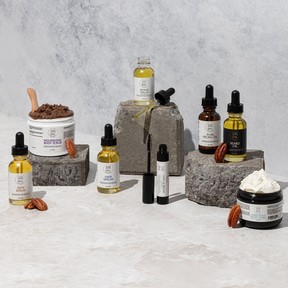 Q. What makes it unique?
Anthony: Our brand is unique because we use pecan oil. Pecans are a powerful ancient nut, known for consumption but not used worldwide in the beauty industry. It contains a variety of nutrients known to help restore the skin and hair, such as Vitamin A, E, D and minerals like zinc and magnesium. This powerful nut also contains acids that keep your skin looking younger such as oleic and linoleic acid, and a high number of amino acids. Pecan oil is also luxurious. It's lightweight but provides ample moisture without being greasy. It's perfect for all skin types including sensitive skin.
Nancy: The best part is that we harvest our own pecans in my family's farm in a small town of northern Mexico, where pecans have grown for centuries. We are huge advocates for the conservation of water and thus are offering an anhydrous skin care line. Anthony is of Métis roots and I was born and raised in the desert in northern Mexico, so we both know the importance of water and water conservation. Our pecans are sustainably harvested from my family farm and Anthony uses an expeller press method when we process the pecans in Langley, which ensures the preservation of all its nutritional benefits. By using our pecan oil in our skin care products, you can hydrate and nourish your skin without stripping it of its natural oils. 
Article content
Q. Who is the target customer?
Nancy: We are so proud to offer a line of products that are inclusive and safe for anyone to use. Our blends are beautiful and neutral, making them appealing to both men and women. They can be used on their own for amazing results, or in conjunction with any other product. Simple and powerful products for anyone.
Q. What can you share about your recent beauty award win?
Anthony: Winning two CertClean Beauty Awards — first for mascara and first for beard care — has been an honour and a wonderful experience. It has given us a platform to share our story, our products, and most importantly has given us an opportunity to continue to advocate for anhydrous products in the beauty industry to a larger audience. We are so proud to have won these awards on our first year entering. It is a true testament to our commitment to providing clean, safe, and effective products to our customers. We will continue to strive to be the best in the industry and provide products that our customers can trust. The power of pecans is here.
Article content
Q. Is there a 'hero' product in the lineup? If so, which one and what makes it so popular?
Nancy: Our Lash & Brow Serum is one of our top sellers and for good reason. People love the fact that they can have a product that is 100 per cent natural to enhance their lashes and brows. It is a simple formula of three ingredients and easy application with the wand. Definitely a must have. Plus, it really works. We've had customers tell us that they've seen a significant difference in the length and thickness of their lashes and brows after using our serum for just a few weeks. So if you're looking for an effective, natural way to enhance your lashes and brows, our Lash & Brow Serum is definitely worth checking out," says Nancy Wingham on what their customers love.
Q. What is the price range for your products?
Anthony: We are proud to offer a wide range of products at prices that are affordable for everyone. Our products are offered between $14 and $29, so you can find the perfect item to suit your needs and budget.
Q. And where can people check them out?
Nancy: You can find us at local farmers markets and events weekly throughout the Lower Mainland from Vancouver to Chilliwack. You can shop our flagship store online at nuezacres.ca or Hudson's Bay online.
Related Posts