Liwu Jewellery's Celtic collection for St Patrick's Day
For a St Patrick's Day celebration or a March birthday, a piece from Liwu Jewellery is a small gift with big symbolism.
Designed and made in Ireland, using sustainable recycled silver and gold, Liwu means 'gift' and the gift of symbolic meaning is perfect for those we hold dear.
Áine Breen produces her jewelry on a farm by the sea in Ballymoney, Co Wexford, and each piece comes beautifully boxed with a meaning card explaining the symbol and sentiment.
IrishCentral readers can enjoy 20% off Liwu Jewellery Celtic Symbols from the 3rd-19th of March!
For a gift with meaning, check out the most popular Celtic symbols that speak from the heart:
The Map of Ireland Éire necklace symbolizes memories of Ireland and home. With significance for visitors to Ireland, loved ones abroad, and home birds, the upcoming St. Patrick's Day holiday will be a popular gifting occasion.
The accompanying Liwu meaning card explains that "life takes you to unexpected places and love brings you home. This necklace reminds you, or a loved one, that you will carry Ireland in your heart wherever you may be".
The redesigned Trinity Knot, with no beginning and no end, represents eternity and infinity with its three interconnected twists and declares love, unity, and protection. Its origins are in pagan times but the Trinity Knot was adopted by Christians in Ireland as a symbol of the Holy Spirit and the Holy Trinity.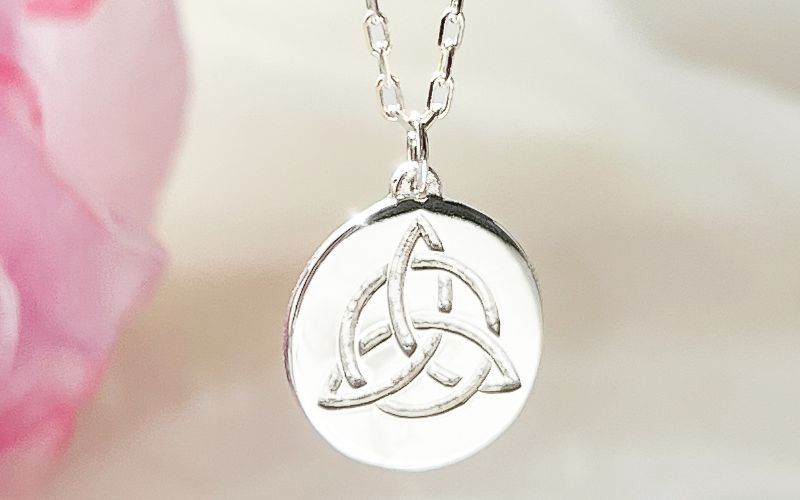 A Shamrock disc pendant symbolizing the trinity of faith, love, and hope is also a popular choice at this time of year. While the celtic-jewellery">Celtic Spiral, symbolizing joy, energy, and life, comes from the worship of the sun by our ancestors and has now come to represent moving forward, life, and birth.
The Triskele or the triple spiral has also been redesigned, the beautiful etched detail carries the sentiment of progression, intuition, and creativity.  
The more intricate Celtic Dara Knot represents the roots of the mighty oak tree, its inner strength that holds the tree and endures over hundreds of years. This symbol is a forever reminder that you are stronger than you know. The Celts believed the oak tree to be sacred, providing strength, wisdom, and leadership. Dara comes from the Irish word for oak – 'Doire'.
To represent longevity, strength, and endurance, the contemporary looking Ailm symbol is the 20th letter of the ancient Celtic alphabet, Ogham. The cross symbolizes a pine tree, which is associated with inner strength and wellness. While the outer circle symbolizes a balanced and complete soul.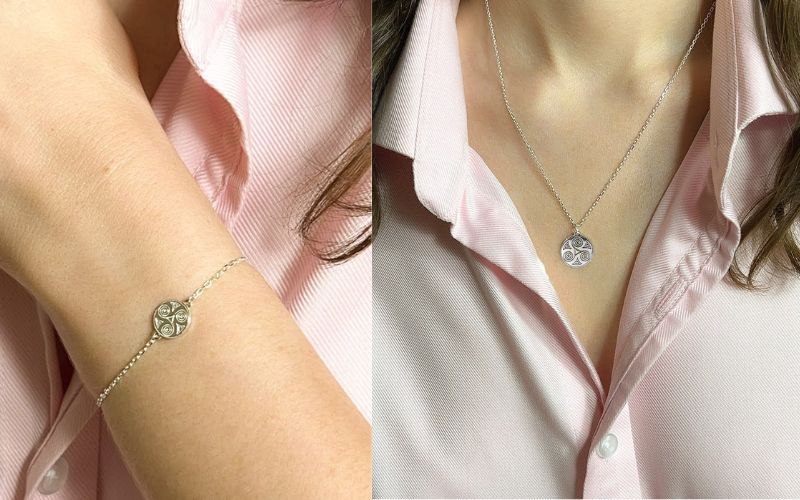 3
Necklaces, matching earrings, and bracelets are available in most of the symbolic Celtic designs from Liwu Jewellery. Cufflinks, etched with the Trinity Knot and other Celtic symbols, can be made to order.
Designed and made in Ireland, shop the latest Liwu Jewellery collection here with shipping available worldwide. You can also keep up to date with Liwu Jewellery on Instagram and Facebook.
Related Posts