Local designers take fashion to the metaverse | Features Local
TRINIDAD AND TOBAGO'S fashion is heading for the metaverse.
Crystal Cunningham, managing director of the Port of Spain Fashion Week (POSFW) was excited to make the announcement on Tuesday, when her organisation launched its FashionVerse experience at the bmobile Corporate box, Queen's Park Oval, Port of Spain.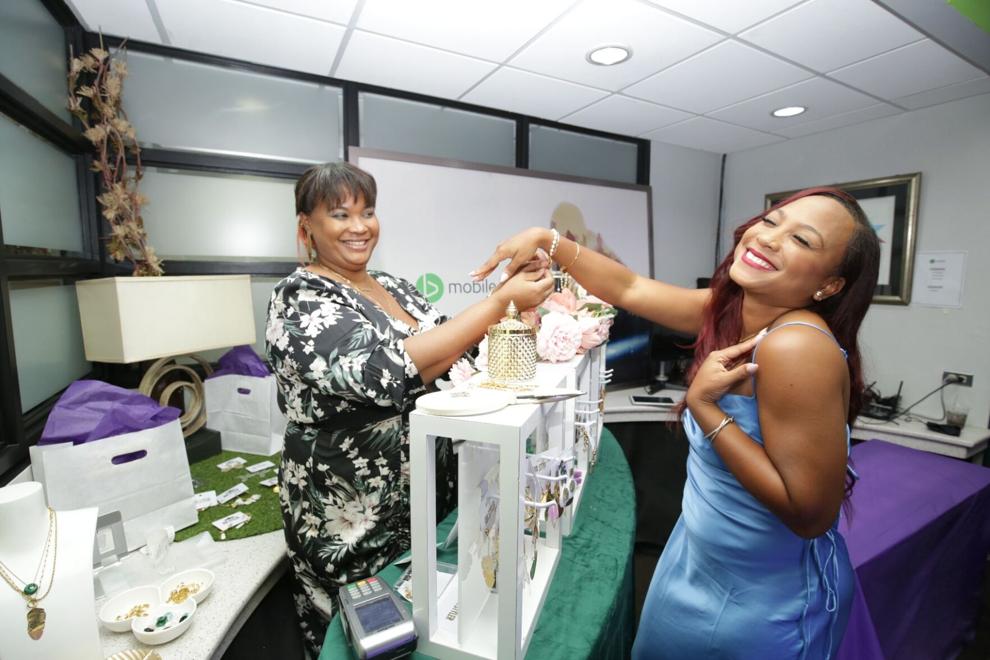 The POSFW "FashionVerse" will be a Web3 Community, developed in partnership with the Caribbean Development Bank (CDB). Its roll-out will see 20 Caribbean designers and feature 40 unique NFTS (non-fungible tokens), the new frontier of digital art and wearables to bridge the gap between Web2 and Web3.
"The first collection will be modest, since we're trying this out for the first time, with a small and selective group of artists and fashion designers from all over the Caribbean," said POSFW's consulting developer Angel Stewart, who spoke at the launch.
"All these items will be available for purchase after we have gone through a process with the designers to make them aware of what's involved and to give them some background training.
"Covid-19 has shown that the world is all connected virtually and through the Internet, through social media, Cunningham said.
"We can definitely market all the amazing designers and talent. Carnival is a testament to that.
"So many international celebrities are tapping into our Carnival. It is now a cool thing for them to post that they came to our Carnival."
Cunningham said she was also inspired by her son to take fashion in this direction.
"My son thinks that my credit card is his," she joked.
"He is always asking me to buy skins for his Roblox characters. These skins are virtual clothing."
She referred to the recent sale of an expensive Gucci Queen Bee Dionysus bag on Roblox to illustrate the direction fashion is going internationally.
The Gucci bag was originally 475 Robux (or US$5.50), but since it was available for one hour on two days, the price ballooned to 50,000 Robux, or US$4,115.
"You can't touch the bag, you can't feel the bag but the buyer has bragging rights of ownership," she said.
The team is currently working with designers, artists and artistes to transform their creations such as clothing, jewelry and even music, into digital assets that can be purchased and worn across the various metaverses.
"The platform we intend to focus on first is Decentraland (a 3D virtual world browser-based platform which uses the Ethereum blockchain)," Stewart said.
"Anyone in the world can purchase these NFTS and we will sell them on exchanges. Each time these NFTs change hands, both POSFW and the designers are going to receive crytocurrency tokens, which can then be converted to US dollars.
This marketplace will also allow users to connect with multiple popular wallets, the most popular of them being MetaMask.
"So it's not just about loading NFTS and getting exposure. Our local artists and designers are actually going to make something from it."
A virtual
fashion show
Those who attended the event were given the opportunity to view a virtual fashion show that was recently held in Decentraland and digital garments or wearables, as they are called, on a 3D screen.
Malene Joseph, culture/consulting project coordinator of the CDB also brought greetings at the launch.
"The support for this project is a collaborative one," she said.
"We collaborated with our NSME portfollio to bring resources together to make this digital transformation exercise happen. We are pleased, while we have supported multiple sub-sector interventions, in our three to four years so far, this is the first of its kind and there is a lot that we see birthing.
"What is really special about this project is that it looked very strategically at different parts of introducing fashion to the metaverse—its sensitisation, its production, its distribution. Often times, we support projects that are one part of that phase or that trajectory, but the project looks at the whole. We look forward to regional integration and interaction."
Port of Spain Fashion Week got its start in 2019 where the team was challenged to create a new fashion experience in this country. When Covid-19 forced lockdowns, the organisation was forced to think of new ways to carry on with its programme without breaking restrictions.
In 2020, the team entered the digital realm and produced its first virtual fashion week experience.
Now, with the launch of FashionVerse, Cunningham said, everything has come full circle.
Related Posts