Meghan Markle and Kate Middleton Have a Key Fashion Designer in Common
Kate, the Princess of Wales, and Meghan, the Duchess of Sussex, have crossed fashion paths at regular intervals over the past six years, with the royal sisters-in-law both looking to the same brands and designers to outfit them for their public appearances.
Over the years, both have repeatedly returned to the same style leader, French fashion designer Roland Mouret. Whether it be for a red carpet, a royal tour or, most recently, a world class sporting event, Wimbledon, Mouret's classic and elegant clothes have fit the bill for both Kate and Meghan.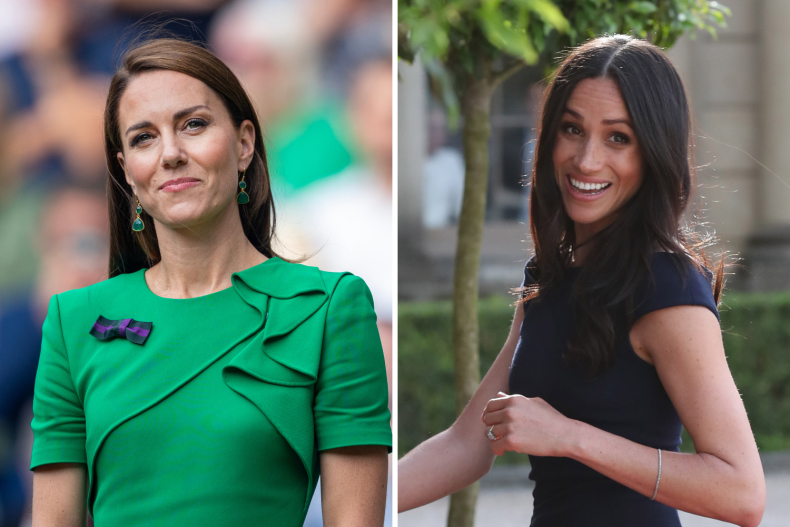 Mouret was born in 1961 and studied fashion in Paris before going on to found his own design house in the 1990s. Kate first publicly wore a Mouret creation in 2013, just two-years after her marriage to Prince William, debuting a cream longline gown with long sleeves and a split skirt for the London premiere of the movie, Mandela: Long Walk to Freedom.
In subsequent years Kate has worn a number of Mouret pieces, including more recently a striking monochrome gown for the premiere of Top Gun: Maverick in London, a soft tailored plum colored pant suit for a day of engagements during a visit to Boston, and a green asymmetric day dress for the Wimbledon championships.
Meghan too has been a long-time fan of the designer, and the pair were photographed together at a private dinner in Toronto, Canada, back in 2016, before she met future husband Prince Harry.
Meghan wore a Mouret dress on the evening before her 2018 wedding, arriving at the Cliveden House hotel with mother Doria Ragland, wearing an asymmetric skirted dress from the brand.
On why both Meghan and Kate should be attracted to Mouret's designs, celebrity stylist and royal fashion expert, Miranda Holder, told Newsweek that it all comes down to his expert eye for tailoring.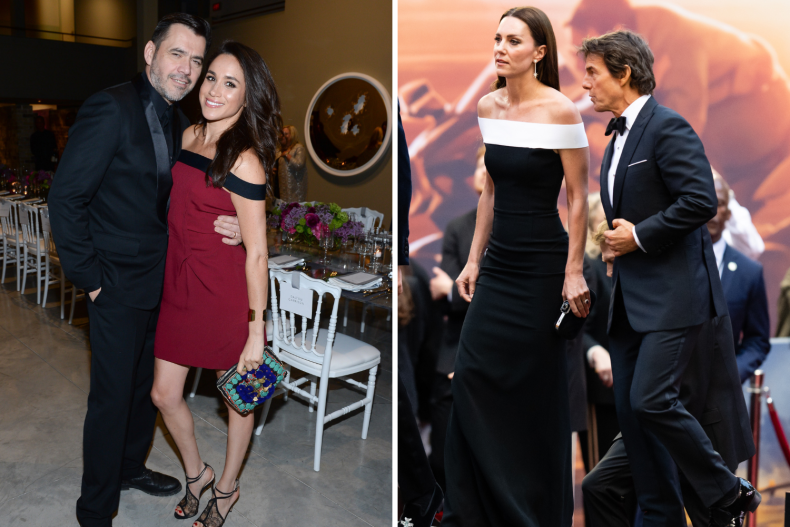 "The master of fabric and drape, and an expert in complementing the female form with his elegant, tailored designs, Roland Mouret is a natural choice for any woman in the royal fold, as his collections—the dresses in particular—are perfectly suited to their requirements," she explained.
"Mouret is a color lover, understanding how bold, vibrant splashes of monochrome can be unforgettable, especially when coupled with his understated, but expertly tailored aesthetic. Whether the wearer is a size 6 or 16, the designer knows how to make a woman feel her most beautiful, her most alluring, without resorting to showing off any unnecessary skin.
"His designs are an exquisite combination of formal and occasion," Holder continued. "Lending themselves to a diverse range of royal appointments and thanks to the understated but oh so chic silhouette, the wearer, whether she is Kate, Meghan, Nicole Kidman or Victoria Beckham, would never feel out of place."
To Holder, Kate and Meghan's Mouret choices are the "perfect answer to the 'I don't know what to wear' conundrum."
"Meghan notably wore a Mouret dress the night before her wedding," she highlighted. "And Kate has turned to Mouret for film premieres, royal tours and of course most recently, to the men's Wimbledon final. His work always sets the right tone, even the creases in Kate's green number for Wimbledon can be forgiven as the colour and cut were so superb."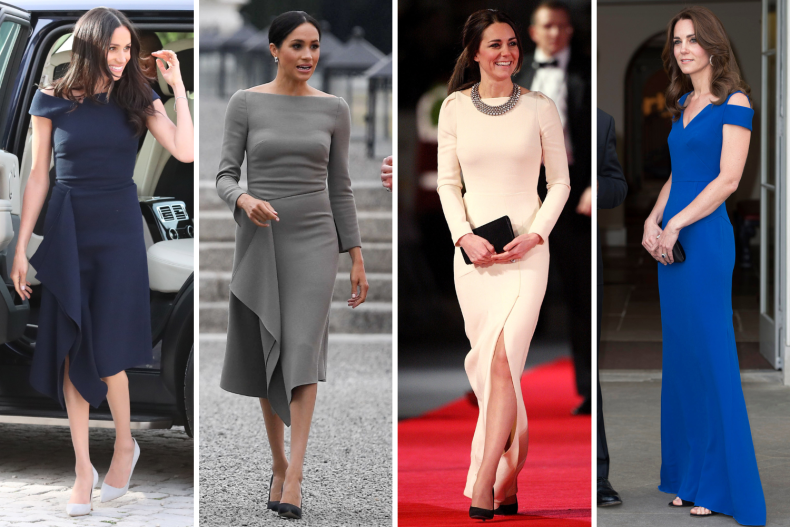 Mouret's most recent royal design, worn by Kate at Wimbledon, drew both positive and negative attention as her streamlined vibrant green dress was somewhat obscured by visible creasing, something Kate has been careful to avoid in the past.
For his part, the designer has rarely spoken about his high-profile clients, but in 2022 made a rare break with his usual discretion to pay tribute to Kate after she wore an altered version of an archive Mouret look for the Top Gun: Maverick premiere earlier that year.
"She represents the way a woman grows, the way a woman stands not behind but beside. That sense of equality she has created—she's powerful," he told Britain's The Sunday Times.
"I design with her in mind," he continued. "It makes me feel proud to be able to do things that can help her. To make things that she feels protected in at that moment when the world is looking at her, I've done a little part in protecting her."
The designer is not the only creative that Kate and Meghan have shared over the course of their relationship, which has been reportedly distant.
"Mouret is not the only designer the royal sisters-in-law both share," Holder told Newsweek. "There are several other brands, all with a similar, etiquette-pleasing aesthetic, such as Erdem and Self-Portrait which fit the sometimes challenging sartorial bill, and look great on both women.
"The only designer Meghan appears to be steering well clear of is Sarah Burton at Alexander McQueen, who seems so indelibly linked to Kate after her breathtaking wedding dress and more recently, coronation outfit."
Newsweek approached Roland Mouret via email to the brand's press office for comment.
James Crawford-Smith is Newsweek's royal reporter based in London. You can find him on Twitter at @jrcrawfordsmith and read his stories on Newsweek's The Royals Facebook page.
Do you have a question about King Charles III, William and Kate, Meghan and Harry or their family that you would like our experienced royal correspondents to answer? Email [email protected]. We'd love to hear from you.
Related Posts