Richmond Designers That Are Rocking The Fashion Industry
This article is written by a student writer from the Her Campus at VCU chapter.
Hello, Richmonders! I've had the privilege to live in Richmond and go to an art school where I've befriended so many talented artists. I want to highlight these unique designers who share values and execute their style in innovative ways. These modern creatives highlight sustainability, inclusivity and vulnerability through their brands. These artists are on their way to big things. Let me introduce to you: Danasia, Antoine, Emma Jean and Fitz!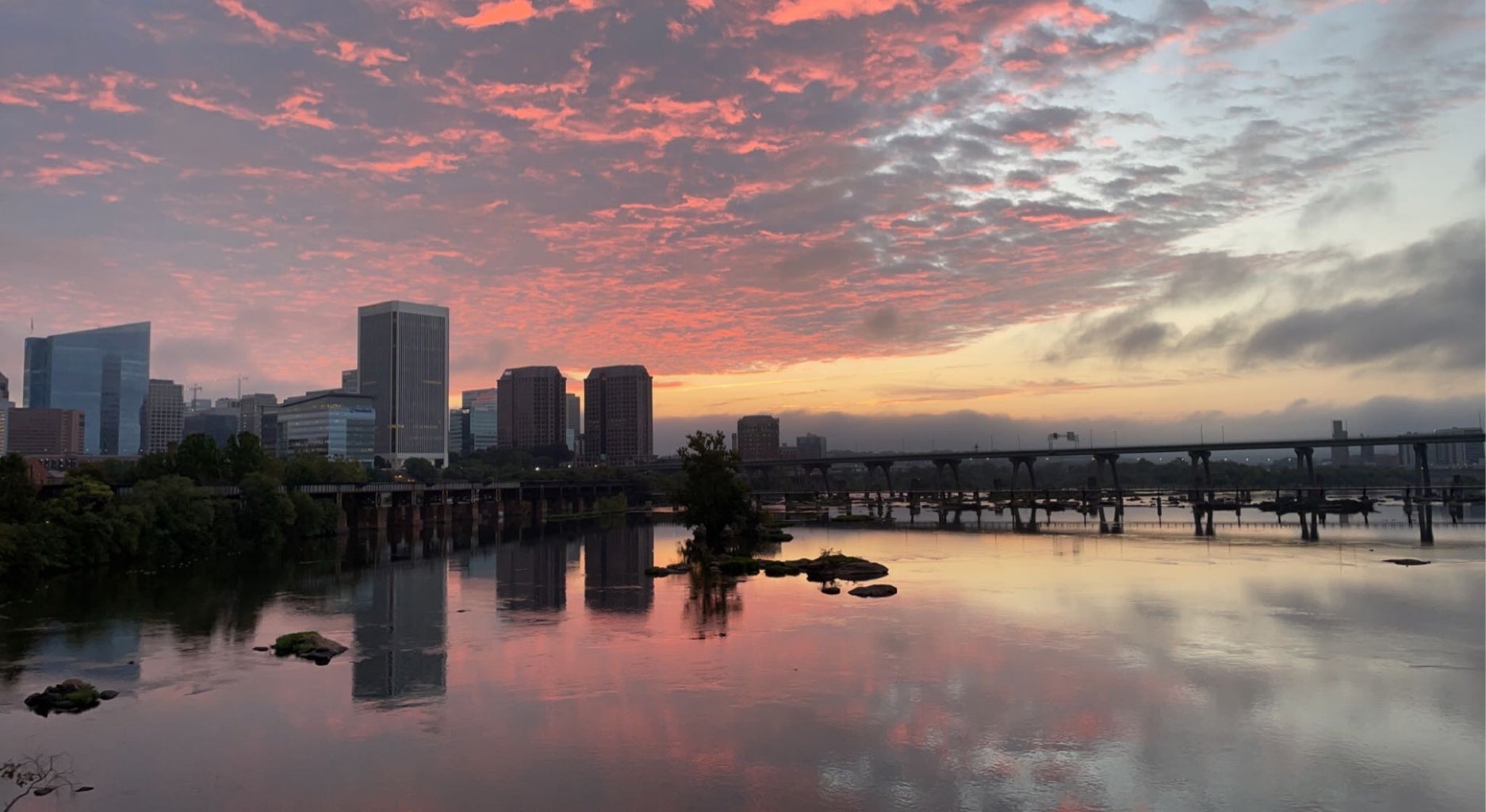 @Reworked4women
Danasia is a local Norfolk/Richmond designer who specializes in denim work. Her main focus is circular fashion: "There's enough clothes on the planet to last us a lifetime and I enjoy creating something new out of what people would consider something old." Her mention about something "old" being subjective is something our modern generation stresses. Many creatives enjoy thrifting/rewearing their parents clothing because it is new to us. Most of her designs are made of reworked denim. She acknowledges that though she loves streetwear, that specific industry lacks sustainable options. In May of 2023 she designed for VCU's, Creative Production Collective (CPC), club's fashion show. She designed four denim-focused looks with hints of tulle and beadwork. Danasia is a full time graphic designer but loves to challenge her creative muscles and make clothes. She hopes to one day do both graphic and fashion design full time. Check her out on Instagram for made to order clothing that is environmentally conscious! 
@4ntoineee
Antoine is a VCU fashion design major with hobbies that include styling, hair, illustration and modeling. This Richmond creative states that his mission is to "make clothing that brings out the confidence of the wearer, regardless of size, race, gender or age." A quick look at his Instagram will show his unique use of color and boldness in his designs. His style is a mixture of New York streetwear and classic Y2K designs. In May 2023, he was a designer for CPC's spring fashion show. He made three looks all made of reworked denim with bedazzled details. Antoine is confident in his power symbols through his designs: "I love to experiment with a wide range of colors, from neons to black, and I love using bold proportions that symbolize great power." Check him out on Instagram to see his clothing and hair (@antoinestyless) work!
@blucathouse
Emma Jean is a multidisciplinary artist and VCU designer based in Richmond! You can find her online shop and interpersonal, community-based creative diary on Instagram @Blucathouse. Emma is another designer that was featured in CPC's spring fashion show. Her two models were dressed in satin fabrics in pink and purple with lots of ribbon and feminine details. She also designed for CPC's 48 hour design challenge. Emma explains that her brand, "Blue Cat House", is "a space where I can breathe life into my visions and connect with the local creative community while doing so." Emma is a self-taught artist and explores different ways she can make one-of-a-kind pieces that are reflective of her personal style. Her clothing brand exemplifies the raw emotions that come with her wants and desires. In the past, "Blue Cat House" did custom work and walked local runways, although, Emma is trying to expand the brand into more artistic mediums. This young artist stresses the importance of making work that is meaningful to her and not let others' opinions of what her brand should be dictate what she creates; "these expectations are detrimental to the creative process." Recently, Emma has taken a break from posting in order to take her time with making "mindlessly from the heart" in order to connect back to her inner artist. Later this month, she will be releasing a mini drop, so stay tuned!
@Hugh.byfitzgodwin
Last but not least, Fitz is a senior at VCU majoring in business product management and development. Though he is not studying fashion design, he has curated a successful clothing brand called "HUGH." He markets his brand as a "one-off clothing brand that uses unique patterns, abstract silhouettes, and unisex designs to construct fashion forward garments." Fitz designed for CPC's spring fashion show and 48 hour design challenge. He used sustainable materials for the design challenge to design and model remarkable garments and accessories made of upcycled burlap. A quick look at his Instagram pages (@Hugh.byfitzgodwon and @fitzgodwin_) will illustrate his mission: "to bring awareness to individuality and sustainability through 1 of 1 designed garments in hopes that through fashion, 'HUGH' has a positive effect on the environment and society." These handmade garments have been featured in numerous fashion shows, including RVA Fashion Week, and can be purchased online at "hughbyfitzgodwin.com"!
There are so many talented designers right here in Richmond and at VCU. Show them some support on Instagram and be inspired! These individuals have a story to tell through unique design and deserve to be recognized. These young creatives are truly rocking the fashion industry and are only going up from here.
Related Posts